Announcing the results of a Whizible survey for CFOs, conducted in November 2018
The survey statements were
1. Costs of project enterprises are largely fixed
2. Compensation to human resources is a large part of fixed costs
3. Increasing billable utilization of our human resources is critical for profitability
We received a good response from CFOs (Chief Finance Officers) throughout India for this survey.
The results in a nutshell
Interesting to note that 54% of the respondents agree that project-based enterprises' costs base tilts towards fixed nature, whereas 31% disagree. The result needs to be studied further.
80% of the respondents who are financial experts feel a strong linkage between the second and the third statement in the survey. This belief could be a result of a few assumptions such as

The human capital of a project enterprise needs to be trained before allocating them on a project, or
The trained employees are generally retained during the slack business season, so that they are readily available when the demand picks up
If we assume that employee costs are mainly of a fixed nature, the business leaders would like to focus on generating enough demand to engage the available in-house talent, which is reflected in the third statement.
Here is the analysis of responses received
45% of the CFOs place high importance to increasing billable utilization of existing human resources to improve profitability, supported by a further 34%, who agree

80% of the CFOs agree/ strongly agree with the statements the human resource costs form a substantial part of the enterprise total costs

54% of the respondents agree that the costs of project enterprises are of a fixed nature to a large extent, while 31% feel otherwise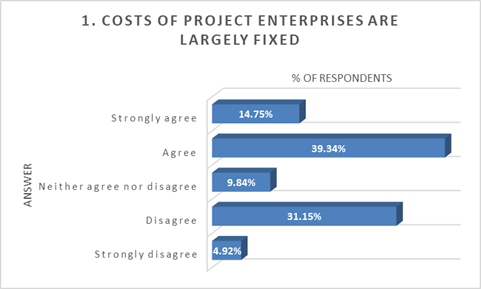 We had conducted this survey initially in September 2018 and the respondents were a mixed group of managers from IT and Engineering Services companies. We had published the results of this survey in October 2018 – check this blog post "What drives the profitability of project enterprises?"
Want to share your opinion on the survey statements? Please leave us a comment – use the box below the article.